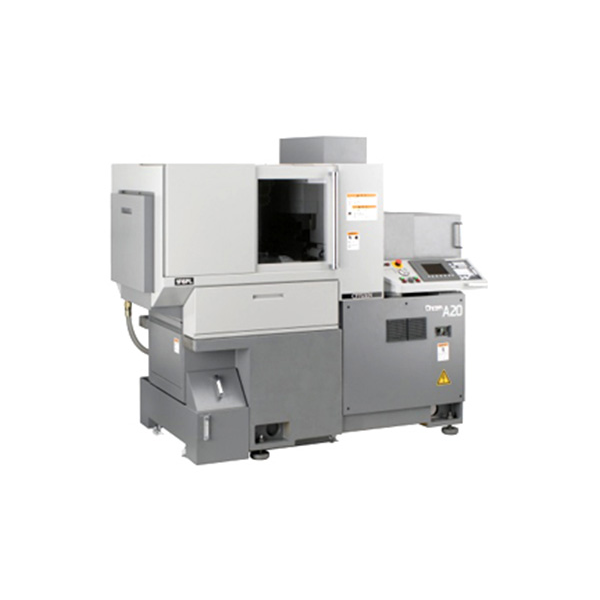 The Citizen A20-VII combines modern technology and the highest precision for the efficient production of turned parts up to 20mm in diameter. This latest model now includes an additional X2 axis on the sub-spindle and an additional 4 tools available on the new back-working toolpost. This allows even greater simultaneous machining possibilities over the previous type VI model.
7 axes, 5 turning tools, 4 rotary tools and in total 12 tools for front and back machining are fitted as standard allowing great flexibility.
Maximum cutting length is 165mm in one chucking. Plenty of power is available with the main spindle driven by a 3.7 kW motor and the sub-spindle 1.5 kW. The rotary tool drive also has a 0.75 kW, AC spindle motor giving 6,000RPM.
Rapid traverse rate is increased to 32m/min from 18m/min for type VI for a further reduction in idle time. The latest Cincom Control technology uses special Citizen software to overlap and superimpose axis movements and tool changes.
For fully automated operations these machines are fitted with a bar feeders.
| Axes | | 7 |
| --- | --- | --- |
| Main spindle | | |
| Max. turning diameter | mm | 20 |
| Max. turning length (in one chucking) | mm | 165 |
| Spindle speed | RPM | 8,000 |
| Drive rating | kW | 3.7 |
| No. of turning tools | - | 7 |
| Number of tools for front-end machining | - | 4 |
| C-Axis [°] | ° | 0.001 |
| Sub-spindle | | |
| Max. workpiece diameter | mm | 20 |
| Max. workpiece length | mm | 80 |
| Drive rating | kW | 1.5 |
| Spindle speed | RPM | 8,000 |
| Number of tools for back-end machining | - | 8 |
| C-Axis | ° | 0.001 |
| Driven Tools | | |
| No. of Driven Tools (transverse) | - | 3 |
| Driven Tool Motor Power | kW | 0.75 |
| Driven Tool Max. Speed | RPM | 8,000 |
| Other Information | | |
| Axis rapid Traverse | m/min | 32 |
| Space Requirement | mm | 2100x1185 |
| Weight | kg | 2400 |